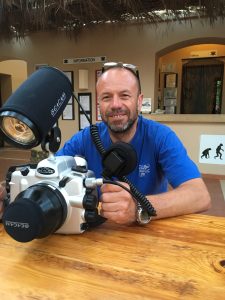 At the age of 16 I saw the sea for the very first time – and it was love at first sight. So huge that I left my home country seven years later with nothing but an instructor's licence and set out in the big wide world to see the oceans beyond and especially under the surface. I travelled the world on sailing ships, worked on dive safari boats, arranged diving trips and operated my own dive center for many years, before I was drawn back to the beautiful sailing ship "Sir Robert". Now my home port is in Germany again as long as I am not diving with you around the world.
I love fishes, the big "loud" ones, but also the small, seemingly unconspicuous ones, all types of marine life. I could spend hours in front of a coral block to take the perfect shot of a long nose hawkfish. The main aim of this web page is to inspire you even more for the underwater world with all its facets.
If you appreciate an exciting dive trip with interesting destinations and just such people – maybe in combination with an underwater photography workshop or some professional underwater pictures of yourself -, just have a look under the heading "travel". It is most important for me to experience something individual, real unique together with you which will never leave your mind.
I have learned underwater photography primarily by self-study, but I am always interested in exchange with other photographers. I am looking forward to your suggestions, critics, but also questions.
My photos are taken with a Nikon D500 in a Seacam housing.